We are pleased to announce that we are now able to offer Acupuncture treatment at Heronden Vets.
Acupuncture can be used to help relieve pain and discomfort.
Acupuncture is a treatment that was developed thousands of years ago in China. Through the insertion of fine needles into certain points of the body, the Chinese believe that abnormal energy flow could be rectified.
Modern research has shown that acupuncture has direct effects on the physiology of both humans and animals. In the past it has offered relief to both species suffering from a number of different conditions.
Our Vet Katie Cranstoun BVetMed(Hons)MRCVS is able to offer acupuncture to relief pain associated with the following conditions:
Arthritis
Chronic Pain
Muscle and Tendon injuries
Hip Dysplasia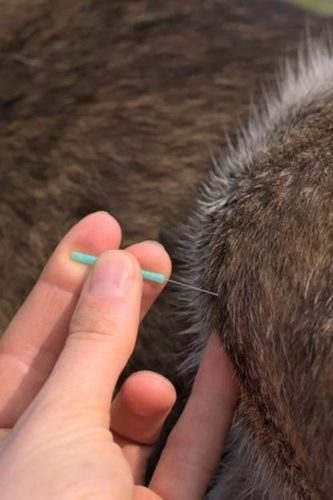 There is very little risk from acupuncture therapy and almost all animals accept the needles; some even fall asleep.
It is important to remember that acupuncture is not a cure; however, it can be used alongside conventional drugs to offer pain relief from various ailments.
Treatments usually start with a course of weekly sessions for 4 weeks, followed by treatments every 3-6 weeks, depending on the patient.