Introducing Our Practice Team
Everyone at Heronden Vets is committed to providing you with the very best in pet healthcare.  Our veterinary team is a wonderful group of very professional people who have a shared attitude of compassion towards you and your pet.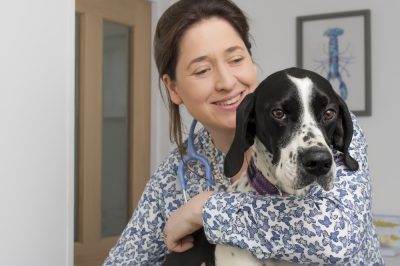 Dr Victoria Vidal - BSc Hons DVM MRCVS
Veterinary Surgeon and Director of Heronden Vets
Victoria started her career in horse racing in Newmarket, going on to work in Africa on a black rhino conservation project and subsequently in Geneva. She has worked in both small animal and equine practices around the UK and after pausing her career for children, she opened Heronden Vets as a practice focused on compassionate care. Victoria lives in Tenterden with her husband, daughter, three horses, two dogs, a cat and two lazy snakes. At home, Vicky has a fondness for buying old, pre-loved furniture and riding her horse..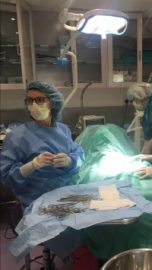 Dr Lizzie Sinclair - BSc Hons BVet Med MRCVS
Veterinary Surgeon Lizzie grew up in Surrey and settled in Kent after qualifying and meeting her husband David (an equine vet) at the Royal Veterinary College 22 years ago. She has three teenage children and a young springer spaniel. Lizzie has worked for the last 20 years in a busy small animal hospital in Essex. She has developed a special interest in soft tissue surgery. She enjoys tackling a wide range of surgical cases, such as anal sacculectomy, BOAS surgery (stenotic nares, tonsillectomy, soft palate resection, everted laryngeal sacculectomy), caesareans, chest drain and pharyngostomy tube placement, cystotomy, hernia repairs, liver lobectomy, mastectomy, parathyroidectomy, perineal urethrostomy, rostral mandibulectomy, screw tail amputation, sialadenectomy, subtotal colonectomy, thyroidectomy and cruciate stabilisation using lateral suture technique in small breeds & cats. To put it simply, Lizzie is an awesome surgeon!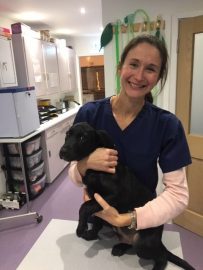 Katie Cranstoun - BVetMed Hons MRCVS
Veterinary Surgeon Katie qualified from the Royal Veterinary College London in 2007. She began her time in practice as a mixed and equine vet. For the last seven years she has worked in small practice. She has a particular interest in soft tissue surgery and pain management in older pets. She also practices veterinary acupuncture. Outside of work Katie enjoys horse riding, running with her slightly crazy boxer dog Mabel and spending time with her husband and their two young children.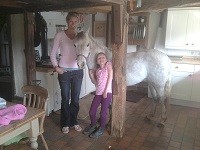 Mrs Charlie Allaway - Practice Manager
Charlie spent the early part of her career working in London and travelling the globe on business.  Charlie's true passion is horses and she competed successfully at eventing before having her children.  Having started a family she began working part time within the pet industry to allow her to balance her family, work and love of animals. In 2012 she moved down from Buckinghamshire to set up a livery yard near Rye. Her children regularly compete all over the country with their ponies. Charlie loves all creatures great and small and has her own menagerie, including several chickens, pigmy goats, three dogs, four cats, five horses and too many reptiles to mention!